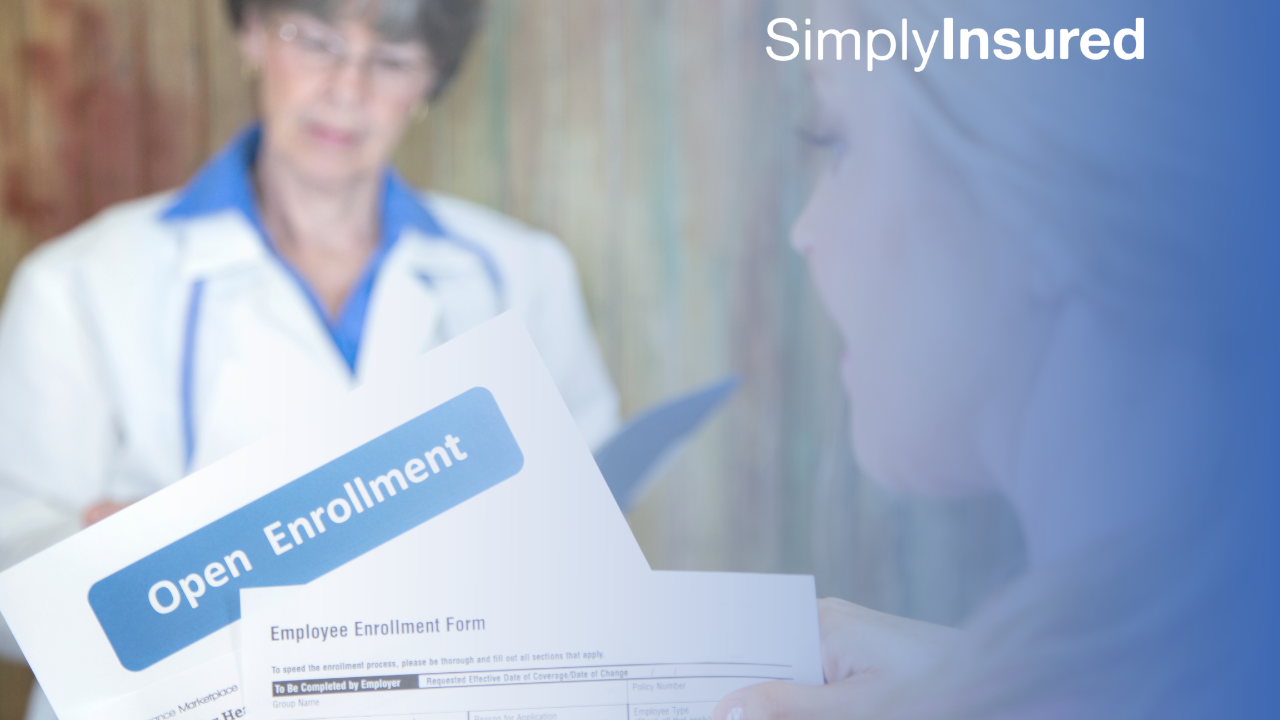 Tips for Navigating Open Enrollment 2022
It's that time of year again, open enrollment season is upon us. Open enrollment gives many small businesses the opportunity to consider how they can ensure their employees are covered for their health benefits for the new year. Whether you are just starting, renewing, or changing your employee benefits, open enrollment is a great time to review the best healthcare provider and coverage options for your employees.

SimplyInsured is here to help you navigate you way smoothly through this year's open enrollment season. This blog post will provide you with a small business health insurance checklist of tips to help you better prepare for the open enrollment process for this 2022 season.
Here are 9 important tips for navigating open enrollment for 2022.
1. Confirm your renewal date, if you have an existing plan.
If you are due for renewal during the open enrollment, it's essential to confirm this with your provider. You do not need to participate in open enrollment if you are not due for renewal. If your company is not scheduled for renewal and does not offer health insurance coverage, this is the perfect opportunity to start looking!

2. Know your enrollment deadline for the open enrollment season.
For the majority of the United States, open enrollment is often between November 1st - December 15th. However, in some states, open enrollment can run between November 1st - January 15th. It's important to know the deadline for you and your employees to ensure the health benefits are renewed and do not lapse.
3. Review provider and coverage options for your employees.
Open enrollment is a great time to review your current plan and compare it to other options. If you're satisfied with the provider and coverage options in your existing health insurance plan for your employees, then there's no need to change the status quo. However, if you feel like better options are available for your employees and their families, this is the perfect time to consider a new health insurance package for next year.
4. Re-evaluate additional options for employees.
During open enrollment, it can be beneficial to research and source opportunities for additional health benefits for your employees. Whether you have 5 employees or 50, additional benefit options with your providers can be a great addition for your employees.

For example, you can offer a high deduction option like a Health Savings Account (HSA) or a Flexible Spending Account (FSA). Many providers can also help you offer wellness discounts which you can pass on to employees for health club memberships or other physical activity discounts as incentives for participating in regular checkups and screenings.
5. Research costs while looking for savings opportunities for employees.
Open enrollment also can be a great time to review the current costs of health insurance plans. It's also a great time to take a look at your budget, as well as that of your employees. Discussions with your employees can often be helpful, as they may have needs to consider when finding a health insurance plan.
As you research, look at employee and family premiums, costs, and comparisons. This can help you determine if an employee-only plan might be more affordable than a family plan for employees with a lower premium but higher out-of-pocket costs. You may also want to consider how much of the plan cost you will contribute toward premiums for your employees. Locking in your rates for 2022 will offer more savings considerations for the benefit year, before the new 2023 rates are released.
6. Ensure compliance with state and government legislation.
As a small business, you will want to confirm that you comply with state and government legislation for providing employee health insurance benefits. Ensure your organization follows all healthcare coverage laws and regulations, including the Affordable Care Act (ACA). When you find a small business plan through SimplyInsured, you will be meeting these regulations.
7. Provide valuable resources to your employees.
Providing valuable resources to your employees can help ensure that you're giving them the information they need to make an informed decision about their health care options. Here are two ways to provide more valuable resources to your employees:

Help your employees understand the options by providing educational materials that explain what each plan offers, including its benefits and cost.

Help them find the best plan for their needs by offering an online tool where they can compare all available plans side-by-side using criteria like monthly premiums (including copayments), deductibles, and provider networks before selecting one at open enrollment time.
8. Give employees time to review the plans, with deadlines for applying in mind.

You will want to give employees time to review the choices of their employee benefits options. However, it's important to remind them of the enrollment deadline for when they need to make a decision. This will help ensure that they have enough time to do their research and choose the right plan, rather than rushing into an automatic enrollment or failing to re-enroll in time.
9. Communicate year-round with staff about employee benefits.
Communicating with your staff year-round about employee benefits can be valuable to both you and them. It's important to keep your employees in the loop on what's happening with their health care coverage so that they know how to navigate open enrollment when it comes around again. It's also important to communicate the process when you are onboarding new employees throughout the year. You can do this by providing a calendar of events, offering a newsletter, and having a dedicated website or social media presence, as well as through email campaigns all internal to your team.
Open enrollment is a busy time of year for all small businesses. SimplyInsured is here to help you navigate open enrollment 2022 with ease. Visit our support page or our blog for more helpful tips and guidance on small business health insurance for you and your employees. We also have our experts available that you can contact that are eager to help you navigate the open enrollment process smoothly this season.