Meet Regina Rovira de la Torre!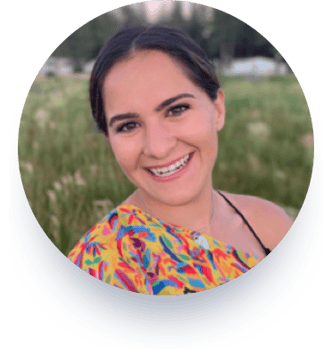 Regina found SimplyInsured as she was getting ready to graduate college in the summer of 2019. At the time, Regina was studying to finish her double major in International Business and Social Psychology at the University of California, San Diego. As she studied for finals, our recruiting team reached out to Regina through Handshake, and the wheels began turning.
We immediately asked Regina if she would be interested in coming up to the Bay Area to interview for a position on our Customer Support team. She flew up, interviewed, fell in love with the company, and accepted the offer. A week later, Regina graduated and moved to the Bay Area and never looked back!
In addition to being excited about our company size and overall growth trajectory, she loved the mission and the chance to improve the small business experience. After starting in her role, Regina saw firsthand how hard it is for our customers to find small group insurance and pick a plan that works best for them. She soon realized SimplyInsured is living up to its mission of removing the fear from purchasing and navigating health insurance for small businesses.
Diving into her role, Regina focused on how she could live up to the mission and began helping customers right away. Working hard and mastering her role quickly, six months after joining SimplyInsured, Regina became a licensed broker and transitioned onto our Account Management Team. While on the Account Management Team, Regina began to support the training of new and current employees and found that she was extremely passionate about helping all employees develop professionally within the company. During her 1-on-1s with her manager, Regina reiterated her interest in moving to a full-time training role. When the time was right, and about a year after she began working at SimplyInsured, she was offered a position as a Training & Knowledge Specialist.
In her role as a trainer, Regina focuses on teaching SimplyInsured 101 courses and ensuring all of our Customer Support personnel have the knowledge and tools to be successful in assisting customers. Regina is an empathetic listener and uses those skills to continue to improve and drive others in the customer to be passionate about the mission. We are excited to see Regina continue to grow in this capacity!
When Regina isn't helping our employees or customers, she's usually outside in San Francisco exploring the great outdoors. She is a self-proclaimed foodie and loves discovering new restaurants all around the Bay Area. Part of this passion has turned Regina into a gardener where she and her roommate have planted cucumbers, tomatoes, and jalapenos. The garden jump-started her plant obsession that grew during COVID; she currently has over 30 house plants and is officially a plant mom.
Cool fact, Regina speaks three languages fluently, English, Spanish and French!