Meet Faith Bleak!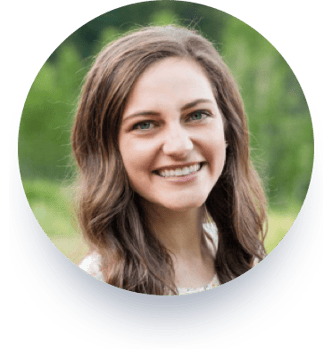 Faith Bleak graduated from Brigham Young University (BYU) with a major in English and a minor in Modern Hebrew. Before finding her way to SimplyInsured, Faith worked as an Event Planner for the Brigham Young Conferences and Workshops division. After graduation, she started her own small business! Faith's Bakes was a cookie delivery business featuring her famous sugar cookies.
While baking, Faith saw a job listing for SimplyInsured. As she did her research, Faith fell in love with us. Not only was she interested in working with a start-up, but she was also drawn to the mission of removing the fear from purchasing and navigating health insurance for small businesses. Taking a leap, Faith interviewed and was asked to join the team as a Revenue Operations Coordinator in September 2020. Faith joined the company for many reasons, but the one that stands out to her is our cultural tenant of transparency. Faith's offer letter was sent to everyone in the company as part of our standard practices, and many of our employees took time to reply, welcoming her to the team. This part of our interview process honoring our culture tenet radical transparency and gives new employees a chance to connect with the team before starting.
Faith continues to showcase her hardworking nature with a team focus, always seeking opportunities to take on new learning opportunities. Faith is now a Revenue Operations Analyst. She ensures that small businesses who sign up for insurance through us are promptly approved by the carrier, with no missing pieces that could come back on the busy small business owner.
As an organization, we are constantly working to improve the lives of small business owners and their employees. Faith shared a story with us highlighting the impact of the work we do. While working with a small business to switch over their broker of record to SimplyInsured, she noted that each employee was on individual insurance plans. She said to the owner that we could put them on a group policy and save them money and ensure they had the best plans for the needs of the employees. The customer was over the moon to learn about the process as well as the ease of consolidation. They immediately took action and switched over to SimplyInsured and a new plan.
Faith loves to travel in her free time and has trips scheduled to visit Mexico, Florida, and Idaho this summer. She said, "I'm grateful that SimplyInsured has an unlimited time off policy and actually means it!" Faith enjoys all four seasons of Utah, skiing/snowboarding, hiking, and camping outside of travel. She's the oldest of 7 kids and has 20 nieces and nephews. She and her husband love spending time with family.